University of Health and Allied Sciences
School of Pharmacy
In Ghana, finding new cures for fungal infections
The School of Pharmacy (SOP) is one of seven schools at the University of Health and Allied Sciences (UHAS), one of Ghana's newest public universities. Established in 2011 to meet national health needs, UHAS is the only university in the country to solely focus on training health professionals and scientists.
The school comprises six academic departments: Pharmacy Practice, Pharmaceutics, Pharmaceutical Chemistry, Pharmacology and Toxicology, Pharmacognosy and Herbal Medicine, and Pharmaceutical Microbiology. The School of Pharmacy currently runs an undergraduate Doctor of Pharmacy (PharmD) degree program and will soon begin postgraduate studies in the Pharmaceutical Sciences.
The Department of Biomedical Sciences at UHAS received an Instrumental Access award in 2016.
Research Areas
The School's research interests include antimicrobial resistance, non-communicable diseases, neglected tropical diseases, and mental health disorders.
The biggest challenge to scientific breakthrough coming from Africa is not the absence of expertise but rather the lack of equipment and adequate funding. With the School of Pharmacy about to commence postgraduate studies, the equipment donated will allow these graduate students to begin their path in research on a good foundation they can build on."
Isolating antifungals from Ghana's natural pharmacopeia: Benjamin Kingsley Harley, PhD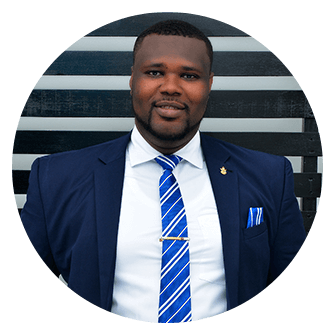 Benjamin Kingsley Harley, PhD (right), is at the center of a delicate balancing act. On the one hand, he sees the difficulties of getting medicines to rural areas of Ghana, especially in the Volta Region where the University of Health and Allied Sciences (UHAS) is located.
On the other hand, he has witnessed how many common health issues resist the most common treatments.
In 2020, Dr. Harley's colleagues at the university's teaching hospital documented a recurring problem: pregnant women were presenting with vulvovaginal candidiasis (VVC), a yeast infection, at an alarmingly high rate. And those cases of VVC were resistant to the two most common treatments: fluconazole and voriconazole.
As a natural products chemist in the UHAS School of Pharmacy, Dr. Harley is using his expertise to isolate antifungal compounds from Ghana's abundant source of natural plants.
Finding an alternative medicine, he says, can address both the lack of access to medicines and increase the effectiveness of treatments offered in rural communities.
Dr. Harley has already identified five plants that present antifungal activities against the Candida strains that resist fluconazole. He and his colleagues are moving into the next phase of the research, which involves isolating the bioactive compounds in these plants.
Pursuing these kinds of projects often depends on grant funding. However, Dr. Harley has an additional challenge. Early career grants for natural products research typically do not include funding to purchase equipment, which the School of Pharmacy's labs lack, to carry out research to its fullest potential.
With the right equipment in place, Dr. Harley could take advantage of more funding opportunities and see his research through.
"The Instrumental Access equipment will greatly improve our effectiveness in research and make us more competitive in winning bigger grants geared towards drug discovery and development," he says.
Perhaps, with Instrumental Access equipment providing the foundation, Dr. Harley can perform that delicate balancing act, making essential medicines available to rural Ghanaians while producing more effective medicines to treat their ailments.
With Instrumental Access equipment, our faculty can carry out research projects faster and publish quickly. Our postgraduate programs will take off, as the equipment comes to us at just the right time."
About the Department
Location: Ho, Ghana
Year Established:1996
Students Impacted Annually: 624 undergraduate, 14 postgraduate
---
Why Instrumental Access?
The department's existing equipment is used solely for undergraduate training. Faculty members have access to equipment in other departments, but Instrumental Access equipment will provide a foundation of specialized instruments they can use for their specific pharmacological research. Several early-career faculty members are working to advance grant-funded research projects, but they are hampered by a lack of equipment.
---
Shipment Status
Arrived on campus January 2022
About Instrumental Access
Instrumental Access
empowers scientists in developing countries. It gives them the resources they need to pursue life-changing research and teach the next generation.
To begin, we identify a pipeline of scientific talent. Then we rigorously screen universities and select those with the most potential to advance education and research through Instrumental Access.