Instrumental Access 2019:
Russian-Armenian University


Institute of Biomedicine and Pharmacy
In Armenia, equipping a new lab to support teaching and research in genetics and genomics
Russian-Armenian University was founded in 1997 through an agreement between the Republic of Armenia and the Russian Federation. It is  located in Yerevan, Armenia's capital city.
RAU enjoys complete academic independence. Graduates receive diplomas that are recognized in both Armenia and Russia.
In 2018, RAU merged several existing departments to establish the Institute of Biomedicine and Pharmacy.
The Institute currently consists of the Departments of Bioengineering, Bioinformatics, and Molecular Biology; General and Pharmaceutical Chemistry; and Medical Biochemistry and Biotechnology.
Research Areas
Research topics include genetic susceptibility to complex human diseases, drug responses, and developing efficient treatments for complex disorders such as schizophrenia and cancer.
"To go forward in genetic studies, stay competitive, and use students' huge potential, we need a well-equipped lab."
Tailoring Treatment for Each Patient:
Dr. Roksana Zakharyan
Personalized medicine is an emerging approach to medical care for complex diseases with a genetic component.
While traditional approaches often relied on trial and error in clinical decision-making, personalized medicine eliminates the guesswork by taking advantage of modern technology to predict which treatments will be safest and most effective for a particular patient based on his or her unique molecular and genetic characteristics.
Personalized medicine has already transformed the standard of medical care for certain cancers and neurological diseases, saving many lives in the process.
Unfortunately, the research is more advanced for some conditions than for others. This is due in part to uneven access to information about how diseases and drugs impact diverse populations, and in part because the molecular mechanisms that control many diseases remain poorly understood.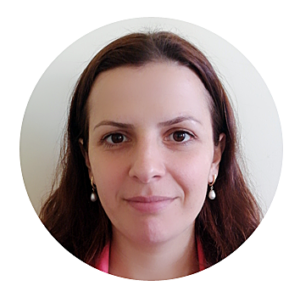 Roksana Zakharyan, PhD, believes that it's time to close these gaps.
She founded the Laboratory of Biomedical Genomics at Russian-Armenian University to advance research on genetic markers that can predict drug effectiveness and adverse effects.
"Pharmacogenetic approaches are still lacking in Armenia," says Dr. Zakharyan, referring to approaches focused on how inherited genetic differences impact the way a patient's body processes drugs, an important aspect of personalized medicine. "The treatment methods applied nowadays are not sufficient because the causes of these diseases are not well described."
Dr. Zakaryan and colleagues aim to understand the molecular mechanisms of diseases and document important genetic variants in Armenian patients. Efforts so far have focused on schizophrenia, cancer, and familial Mediterranean fever, a hereditary disorder that disproportionately impacts people from Armenia and the surrounding region.
With this knowledge, they plan to develop preventive, diagnostic, and efficient treatment approaches that improve the quality of patients' lives. 
For patients with incurable disorders, Dr. Zakharyan has "high hopes to make a bridge between the science and clinics."
Equipment from Instrumental Access will help to strengthen the Laboratory of Biomedical Genetics, supporting Dr. Zakharyan's work and helping her to train the next generation of Armenian genetics researchers.
About Instrumental Access
Instrumental Access
empowers scientists in developing countries. It gives them the resources they need to pursue life-changing research and teach the next generation.
To begin, we identify a pipeline of scientific talent. Then we rigorously screen universities and select those with the most potential to advance education and research through Instrumental Access.