Instrumental Access 2016
Garden City University College: Department of Medical Laboratory Technology
Garden City University College is a private university that aims to develop a new generation of Ghanaian innovators. The Department of Medical Laboratory Technology, based in the Faculty of Health Sciences, has recently begun offering a BSc training program for medical lab technicians, filling a critical gap in West Africa's healthcare infrastructure. Students from the region are trained to work in diagnostic and other medical laboratories.
A Unique Advantage Against Infectious Disease: Dr. Kingsley Badu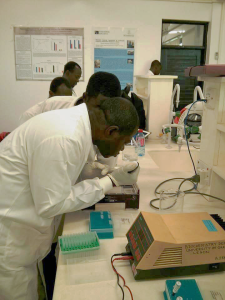 Dr. Kingsley Badu is a biological scientist interested in investigating and developing tools to understand how tropical infectious diseases are transmitted.
He is exploring the use of alternatives to blood, such as saliva and urine, in diagnostic laboratory tests, with the potential for developing low-cost diagnostic tools that can easily and accurately be administered at the community level.
"Diseases know no boundaries! Almost every infectious disease that was ever identified in Africa, Asia, and the Americas found its way to the USA," says Dr. Badu, citing Ebola, Zika, malaria, and yellow fever as examples of recent outbreaks. "As African scientists, we live with these diseases; we see patients and isolate the infectious agents on daily basis. We have the unique advantage in developing solutions to diagnose, block transmission, develop vaccines, and to treat infectious diseases."
At Garden City University College, he is lecturer and chair of the Faculty Research Committee. His research specializes in vector biology, molecular cell biology, and immuno-biology.
---