Kwame Nkrumah University of Science & Technology
Department of Food Science and Technology
In Ghana, supporting indigenous crops
The Department of Food Science and Technology began as a program within the Department of Biochemistry and Biotechnology, where faculty responded to the national need for experts in the expanding food sector throughout Ghana. Focusing on issues related to food security, the department offers a four-year undergraduate degree as well as master's and doctorate degrees in food science and technology.
KNUST has three Instrumental Access awardees in addition to the Department of Food Science & Technology: the Department of Pharmaceutical Chemistry; the Faculty of Pharmacy and Pharmaceutical Sciences; and the Department of Biochemistry and Biotechnology.
Research Areas
The department's research interests include food chemistry, food microbiology, food processing, food safety, and food engineering.
Africa has a lot of challenges and many of these can only be addressed by African scientists developing technologies and solutions locally. This equipment will help advance our research, which focuses on the safety and processing of nutritious food for a majority of our population in Ghana."
Adding value to indigenous staple crops: Dr. Nana Baah Pepra-Ameyaw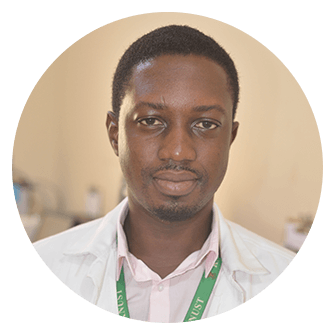 Sorghum, millet, and many varieties of rice are easy to grow in West Africa. With little effort, a farmer in this tropical climate can have a large yield of grains, the sale of which can sustain a family.
But why do so many West Africans rely on corn and wheat as staples of their diets?
Nana Baah Pepra-Ameyaw, PhD (right), a lecturer in the Department of Food Science and Technology at the Kwame Nkrumah University of Science and Technology (KNUST), thinks he has an answer: we don't yet understand what kinds of foods can best deliver the nutritional benefits from these grains.
Traditional agricultural products from West Africa have had limited success as value-added foods, which are produced as commodities that can be used in ways the raw foods cannot. When wheat is milled into flour, its value increases and the wheat is more useful to a consumer.
But sorghum? Millet? These are more difficult to commodify and make simple for the average household to use.
Dr. Pepra-Ameyaw believes that the more we know about these indigenous grains, the more likely we are to turn them into value-added foods.
By studying the chemical characteristics of grains like millet and sorghum, Dr. Pepra-Ameyaw can begin to understand what makes processing them so difficult, time-consuming, and ultimately less affordable. These easy-to-grow grains should be among the most affordable options for dinner at any table in Ghana.
"My research bridges the gap between farmers and local industries by finding solutions to key technological challenges that limit the utilization of locally-grown cereal grains," says Dr. Pepra-Ameyaw. "For the broader population, adding value to these crops and incorporating them into our everyday diet also has potential health implications."
Working with professionals in Ghana's food industry, Dr. Pepra-Ameyaw hopes to find scientific answers to these production challenges. But the department's current laboratory setup lacks the necessary equipment to carry out this research efficiently.
Researchers at KNUST work in the same labs as students doing their practical, hands-on training. With limited infrastructure in place, the equipment is difficult for everyone—students and faculty alike—to access.
"A lot of researchers end up spending money to send samples overseas for analysis," says Dr. Pepra-Ameyaw. "Because our researchers have to compete with teaching labs for the same equipment and space, researchers carrying out projects will often struggle to meet deadlines. They have to wait to get access to simple equipment."
Instrumental Access equipment, which will be used to furnish a new lab in the department, should ease some of this burden, allowing both students and faculty to get their hands on the instruments they need for their coursework and research, respectively.
With more access to equipment and faster turnaround times for results, Dr. Pepra-Ameyaw may add value to African grains sooner than later.

Instrumental Access equipment will give us the much-needed support we need to train the next generation of food scientists and ensure that our staff and students are able to address pertinent food security issues through their research."
About the Department
Location: Kumasi, Ghana
Year Established: 2014
Students Impacted Annually: 100 undergraduate, 50 postgraduate
---
Why Instrumental Access?
The Department of Food Science and Technology is expanding to include more practical training for students and to offer new distance learning programs for professionals already working in the food industry. Instrumental Access equipment will help to furnish the new laboratory space, which will serve both hands-on education and distance learning.
---
Shipment Status
Arrived on campus December 2021
About Instrumental Access
Instrumental Access
empowers scientists in developing countries. It gives them the resources they need to pursue life-changing research and teach the next generation.
To begin, we identify a pipeline of scientific talent. Then we rigorously screen universities and select those with the most potential to advance education and research through Instrumental Access.