Instrumental Access 2018
Malawi University of Science & Technology: Department of Biological Sciences
The newest of Malawi's four public universities, Malawi University of Science & Technology (MUST) opened its doors in 2014. In addition to expanding access to higher education for Malawi's 18 million people, MUST was chartered with the goal of filling gaps not currently covered by other universities.
Building infrastructure for medical microbiology is one such gap, and this has been the initial priority of the Department of Biological Sciences. Additional programs will be introduced over the next two years to train students in immunology, medical imaging, and medical diagnostics.
Research Areas
MUST is taking aim at both infectious and non-communicable diseases. Research topics include malaria, TB, non-malarial fever, zoonotic diseases, herbal medicines, and environmental health.
"Most important is the fact that we are training the next generation of Malawian scientists to tackle [malaria and other diseases] head on." Dr. Gama Bandawe, Lecturer and Head of the Biological Sciences Department at MUST
Improving Treatment for All Fever Patients: Dr. Gama Bandawe
Home to around 18 million people, Malawi is one of the smallest nations in Africa and one of the least developed in the world. Child mortality is very high, largely due to infectious diseases. Malaria in particular poses a serious threat to Malawian children under age 5.
Lately, however, there have been many positive developments. Large-scale malaria prevention efforts spearheaded by the Malawian government have resulted in fewer people getting sick. Better access to lifesaving drugs and medical care has improved treatment outcomes. New technologies have played a role as well, as in the case of the malaria rapid diagnostic test.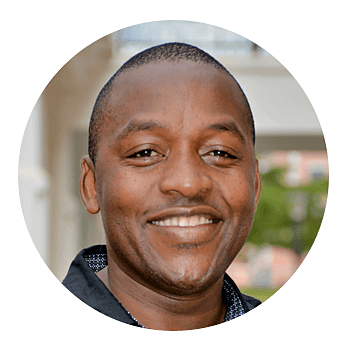 One thing that rapid diagnostics have brought into sharper focus is that not all children who present with malaria-like fevers are actually suffering from malaria.
Gama Bandawe, PhD, Head of the Department of Biological Sciences at MUST, believes that it's time to focus on how to help these children as well.
"For many Malawian children, making it past the age of 5 is not anything close to a sure bet. This is unacceptable, and it weighs heavy on our conscience," says Dr. Bandawe.
With funding from UCSF, MUST, and the Global AIDS Interfaith Alliance, he and an international team of collaborators studied all fever patients at a mobile clinic in southern Malawi, many of whom were children. They found that risk factors for poor outcomes included food insecurity, access to a standing clinic, and seasonality. These findings were published in Global Pediatric Health in October 2017 (Kortz et al 2017).
The team's next step will be to conduct a similar study of fever patients at a larger hospital, this time with a focus on identifying which pathogens are causing sickness and monitoring immune responses in patients. They aim to understand the most important causes of non-malarial fever so that better strategies can be developed for diagnosis and treatment.
The plan is for Dr. Bandawe and his student research assistants to take the lead on pathogen identification. They're relying on their Instrumental Access shipment to help.
"The availability of refrigerators will allow us to retain and store samples on site while other molecular biology equipment, such as thermal cyclers, gel apparatus, and documentation systems will allow us to do preliminary analysis for pathogen identification within the country," explains Dr. Bandawe. "A major component of this project is to develop the capacity to conduct all the molecular work within Malawi."