At the Université de Yaoundé I, Seeding Labs' Instrumental Access program has made a lasting impact on:
Education
Each year, more than 800 undergraduate students in biochemistry courses get hands-on experience using equipment from Seeding Labs

Research
Three university departments used instruments from Seeding Labs to outfit 5 research labs and 2 teaching labs

Sustainability
Dr. Boyom has won two international grants totaling $170,000 in new research funding since receiving equipment from Seeding Labs
Combating Infectious Diseases in Cameroon & Beyond: Dr. Fabrice Boyom
Seventy percent of Cameroonian women of childbearing age carry one of the world's most common parasites: Toxoplasma gondii.
The resulting infection, toxoplasmosis, can have devastating effects on pregnant women and their babies and cause serious health complications in people with weakened immune systems.
There is no safe and effective treatment for toxoplasmosis, but Dr. Fabrice Fekam Boyom (pictured at top, far left), a professor of biochemistry at the Université de Yaoundé I in Cameroon, hopes to change that.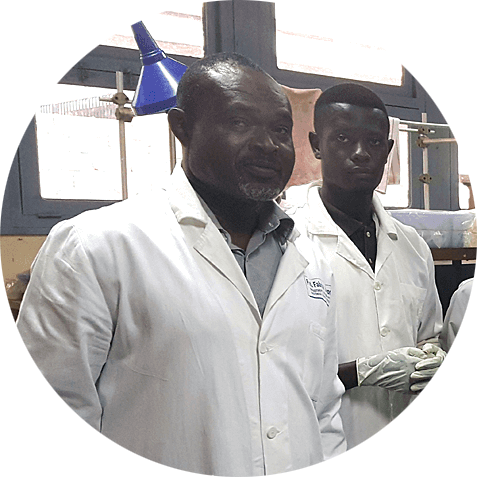 "Seeding Labs has helped boost our research and productivity. Equipment we received is very useful in our daily research and we have been able to publish outstanding results."
Dr. Fabrice Boyom,
Head of the Antimicrobial & Biocontrol Agents Unit,
Université de Yaoundé I
Dr. Boyom has been utilizing equipment from Seeding Labs to seek drugs effective against toxoplasmosis, as well as malaria and the neglected tropical diseases Buruli ulcer and leishmaniasis—some of his country's most pressing public health threats.
The equipment gave Dr. Boyom's lab the foundation needed to win a $100,000 grant from Medicines for Malaria Venture, fueling research that successfully yielded several promising leads for possible drug development, as well as recent publications in peer-reviewed journals.
Instrumental Access equipment is also catalyzing a new generation of scientists. Six of Dr. Boyom's students have relied on it to complete research for their MSc and PhD degrees on antioxidants, antifungals, antibacterials, inflammation, and malaria.
Dr. Boyom, a beloved teacher and mentor, hopes to retain these students and use their expertise to bring treatments for toxoplasmosis and other pathogens closer to reality.
How Seeding Labs Helped:
Seeding Labs selected the Université de Yaoundé Ifor our Instrumental Access program to enhance teaching and accelerate research.
We dispatched a container of custom-selected lab equipment to Cameroon, which:
Arrived February 2014
Contained 132 pieces of lab equipment and supplies worth $92,000
Included instruments and supplies from 14 generous equipment donors