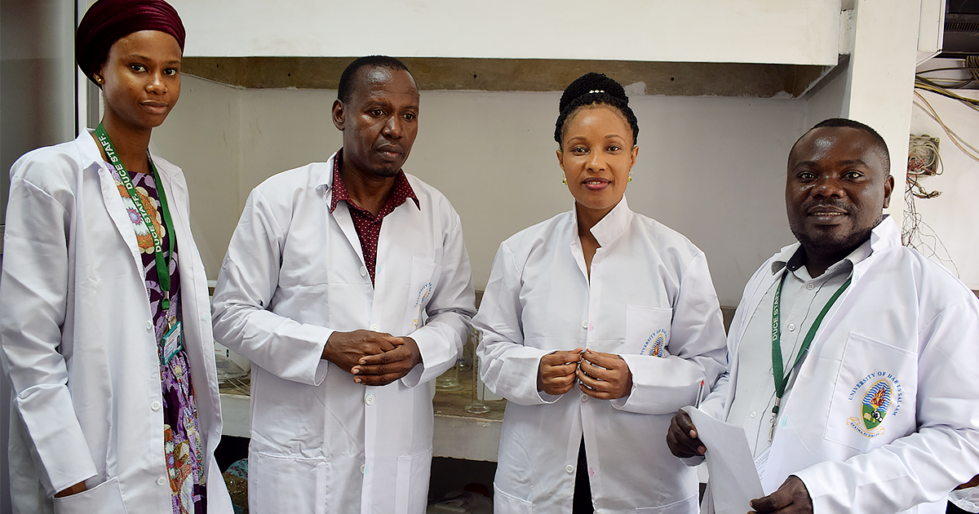 Tanzanian Transformation: Instrumental Access Equipment Brings New Life to a Chemistry Program in Need
Pictured above: Members of the Department of Chemistry at the Dar es Salaam University College of Education produced hand sanitizer for the local community with equipment from their Instrumental Access shipment.
Five years ago, Dativa Shilla, PhD, senior lecturer in the Department of Chemistry at the Dar es Salaam University College of Education (DUCE), recognized that her department was missing research opportunities.
With under-resourced labs, her students struggled to test their ideas about pollution in Tanzania's waterways.
Dr. Shilla applied to Instrumental Access with hopes that an influx of equipment would reverse the trend of declining enrollment in the Department of Chemistry.
Frustrated and discouraged by the lack of practical experiences available in the lab, one in every four students in the department failed to advance towards their degree.
When an Instrumental Access shipment of equipment arrived at DUCE in April 2018, Dr. Shilla and colleagues were able to outfit their teaching labs with more than 200 instruments from Seeding Labs!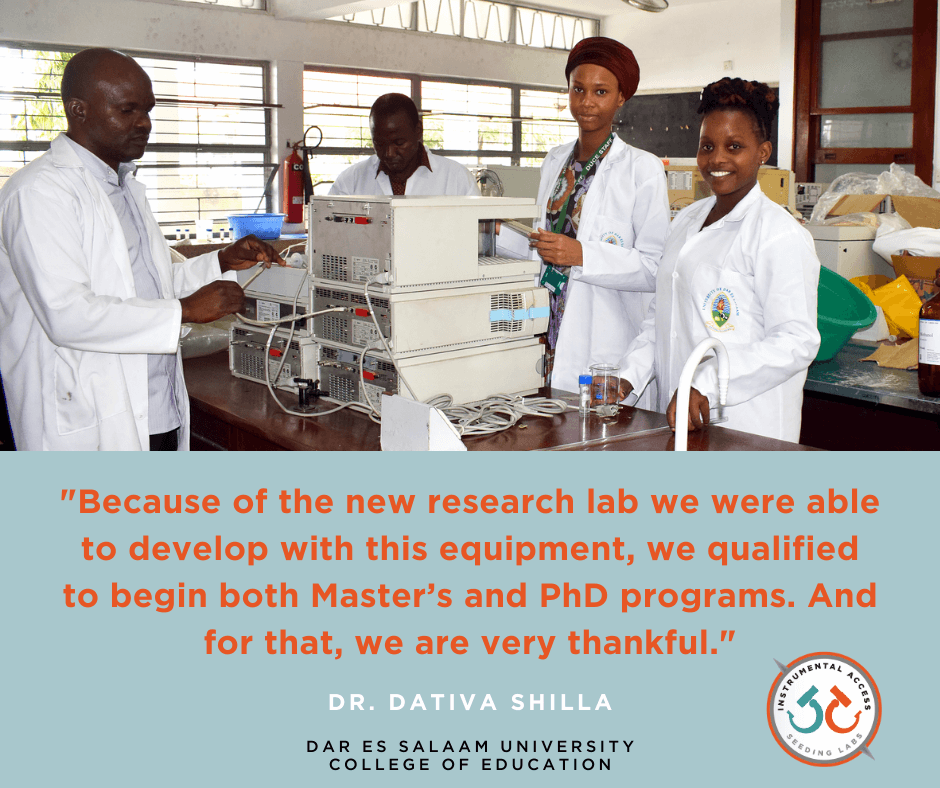 The equipment made a huge impact, changing the way the department went about teaching students at every level.
Dr. Shilla reports that students now interact with the equipment, see how it works, understand how to use it, and conduct their own experiments. And the rate of students leaving the department has dropped by half!
"We have seen transformational changes and continue to move forward," says Dr. Shilla. "Because of the new research lab we were able to develop with this equipment, we qualified to begin both Master's and PhD programs. And for that, we are very thankful."
Potential Research Becomes Reality
The Instrumental Access shipment benefitted more than students at DUCE.
After the Instrumental Access equipment arrived, Dr. Shilla launched a long-planned research project examining the presence of microplastics—tiny fragments of plastics—in Tanzania and the African Great Lakes.
Spanning eight countries, the region includes Lake Victoria, Lake Tanganyika, and Lake Malawi and is celebrated for its biodiversity. Ten percent of the world's freshwater fish species live in these lakes, which combined, are bigger than North America's Great Lakes.
Dr. Shilla found significant gaps in the available data on microplastics in Tanzania's aquatic environment. She summarized the existing data in a 2019 paper published in the Tanzanian Journal of Science and advocated for additional research to fill those gaps.
After reviewing all available studies—including NGO efforts, scientific databases, and academic publications—she suggested new avenues to expand the limited body of research.
Dr. Shilla's work is only one of a few published studies focused on microplastics in Tanzania's waters and has started a conversation about the impact humans are having on one of the most biodiverse regions on earth.
Equipment from Seeding Labs is key to Dr. Shilla's ongoing research, which has far-reaching implications. Understanding the amount of plastic in the region's lakes, and how it got there, is vital to developing better public policy solutions that will contribute to healthier water in Tanzania, and healthier people.
Dr. Shilla says that prior to the Instrumental Access award, she was unable to advance this work at all. Now, she is performing her own sample analyses independently on campus at DUCE, leading to the preparation of two new manuscripts on plastic pollution in the coastal region of Tanzania.
"This publication was based on research that used our own labs to do analysis on microplastics," she says. "Usually, publishers are reluctant to accept a paper if it's coming from labs in developing countries without a collaborator from a well-established lab. But this paper doesn't have any co-author from any 'well-established universities.'"
Adapting to a New Reality in 2020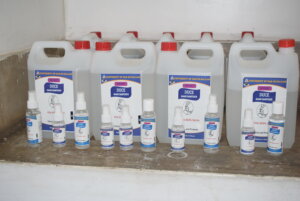 As the world reckoned with the COVID-19 pandemic, scientists at DUCE recognized that they could help the local community gain access to better cleaning products. Challenged by limited access to running water, members of the community struggled to sanitize their homes.
Using equipment from the Instrumental Access shipment, the entire Department of Chemistry began producing high-quality, low-cost hand sanitizer for their neighbors (pictured here). They produced 3,000 liters of sanitizer, effectively changing the sanitary habits of the local community.
"People are not used to using this kind of product, but during a pandemic, this was necessary for those who don't have running water," Dr. Shilla says. "We decided to contribute in this way to support those who had to be in public and use public transport during this time."
New Professional Avenues
For Dr. Shilla, Instrumental Access equipment has meant so much. She has published more papers and worked with her community on public health. But she has felt the impact in another way.
With newly-opened professional avenues for research, Dr. Shilla has taken on leadership roles within her department. As head of the Department of Chemistry, she's shaping the future of her students as well as her own career path.
For Dr. Shilla, Instrumental Access was far more than equipment in the lab. It was the starting line for the next phase of her career.