Establishing the Dominican Republic's first institute to fight infectious diseases 
Universidad Iberoamericana
Institute for Tropical Medicine and Global Health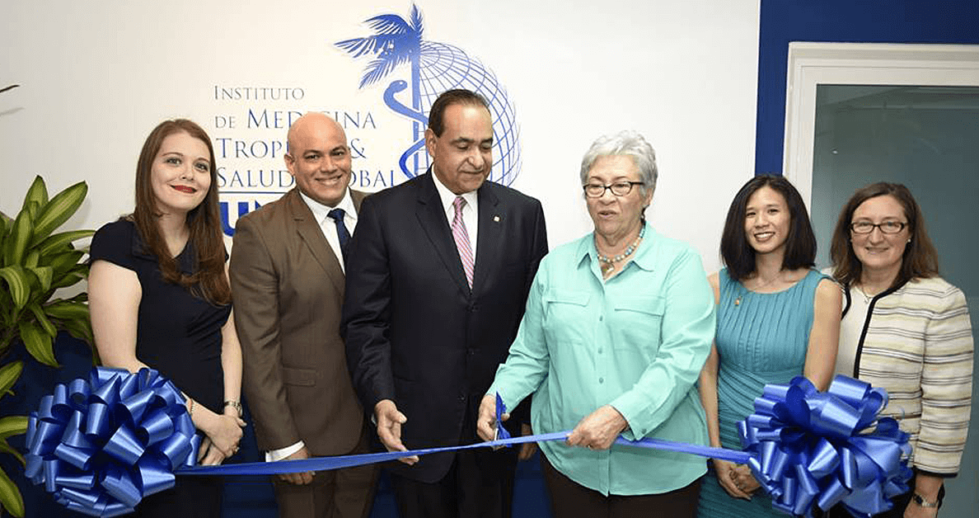 Leaders from UNIBE and Seeding Labs open the new Institute for Tropical Medicine and Global Health
Universidad Iberoamericana (UNIBE) is one of the top universities in the Dominican Republic and has a well-respected School of Medicine. The Department of Research is committed to quality science with a focus on translational research that will benefit the Dominican people and includes the only dental biomaterials lab in the country. The Department of Research will coordinate research efforts university-wide, supervising research laboratories, obtaining grants, providing support to ongoing projects, and assisting with research capacity building.
As the first of its kind in the Dominican Republic, the Institute is advancing health equity for those in the Greater Caribbean, focusing on emerging diseases that disproportionately affect people in developing countries.
"We need global partners, we need innovation, we need courage, and we need a group of brave scientists with vibrant hearts and stamina to build the foundation for the future. We found the global partners in Seeding Labs, and today we are more prepared to respond to a national epidemic."
Dr. Robert Paulino-Ramírez
Universidad Iberoamericana
UNIBE's Department of Research needs equipment to expand on-site capabilities to include molecular biology research focused on combating HIV and other infectious diseases. Equipment will be used to add practicals to chemistry and biochemistry courses for undergraduate medical students, to develop a Master's program in health sciences research, and to create an accredited training program in diagnostic analysis for clinical technicians. Labs at UNIBE's new Institute for Tropical Medicine and Global Health will also utilize the equipment for research on emerging tropical and infectious diseases like Zika, Chikungunya, Dengue, and HIV.
The institute is the first research institute in the Dominican Republic dedicated to emerging, tropical, and infectious diseases.
Expanding COVID-19 testing in the Dominican Republic
In June 2020, Seeding Labs provided UNIBE with additional equipment that paved the way for the Institute to join the country's pandemic response by processing COVID-19 diagnostic tests. Thanks to this new infusion of instruments, the Institute significantly expanded and accelerated COVID-19 testing for the entire country.