Instrumental Access 2017
Dar es Salaam University College of Education: Department of Chemistry
The Dar es Salaam University College of Education (DUCE) was established by the Tanzanian government to address an acute teacher shortage resulting from government initiatives that successfully expanded primary and secondary school enrollment. The Faculty of Science at DUCE is helping to fill the shortage by training high-quality science educators and scientists. Graduates are in demand; more than 75% of 2014 graduates are working in secondary schools or teacher training colleges across Tanzania.
Areas of Research
Faculty research interests include indoor air quality in urban areas, bioaccumulation of organic pollutants in fish, and fabrication of semi-conductors.
Clean Energy for Healthier Families: Dr. Dativa Shilla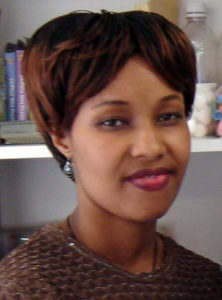 For half the world's households, wood, grass, and animal dung are the only sources of fuel for cooking and sterilizing drinking water.
And although 1.6 million children die annually due to inhaling smoke from these types of fuels, the vast majority of women and children at risk are unaware of the associated respiratory diseases.
Dr. Dativa Shilla is working to reduce indoor air pollution created by combustion in urban households, an advance that would extinguish the associated health risks facing families in developing nations around the world.
As a researcher and lecturer at DUCE, Dr. Shilla is leading public health initiatives to not only improve the healthcare of women and children, but also promote the development of fuel-efficient technologies and clean light sources for schoolchildren studying at night.
Dr. Shilla's passion for science began in childhood, but "it was rare at that time for girls to opt for science subjects," she says. Propelled by her interest in environmental protection and conservation, she ultimately earned a PhD in Environmental and Marine Sciences from the University of the Ryukyus in Japan.
Driven by a hope of inspiring the next generation of women scientists, Dr. Shilla is a mentor for Girls in Science, a program that partners with local high schools to offer hands-on lab experiences and exposure to STEM careers.