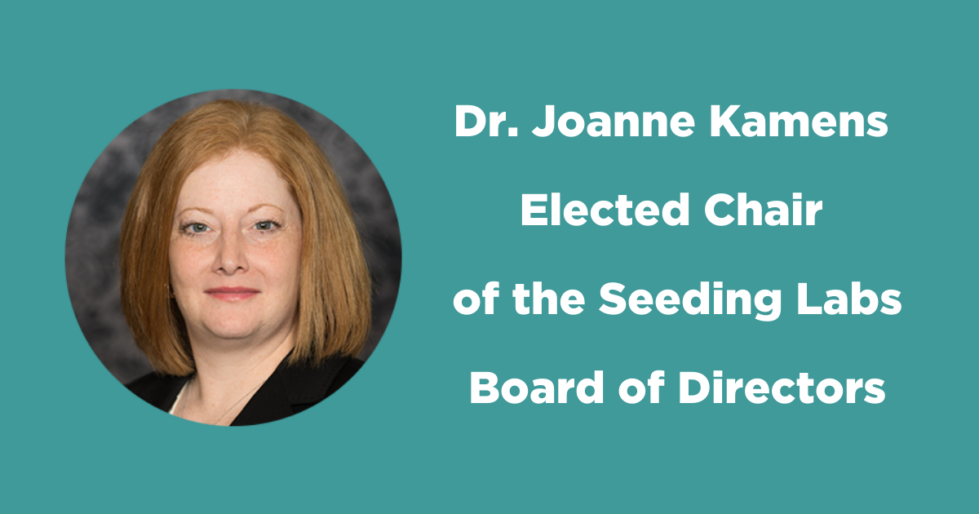 Dr. Joanne Kamens Elected Chair of the Seeding Labs Board of Directors
Seeding Labs is thrilled to announce that Joanne Kamens, PhD, has been appointed as chair of our Board of Directors. Dr. Kamens, who joined the board in 2016, succeeds Alan C. Lee, who served as board chair since 2018 and will remain a director and important guiding voice on the Seeding Labs Board.
When we invest in scientific infrastructure today, the possibilities for tomorrow are endless."
"I am honored to serve as Chair of the Board of Directors for Seeding Labs," said Dr. Kamens. "Our model—to support scientists with the right infrastructure to address big questions—inspires a more equitable and inclusive scientific community. I thank Alan for his leadership and look forward to working with our scientists, corporate partners, and donors to provide opportunities to researchers worldwide.
Dr. Kamens spent 18 years in pharma and biotech before becoming executive director of Addgene, the nonprofit plasmid repository. Addgene accelerates science by sharing useful plasmid-based research materials, viral preps, and information worldwide.
In 2016, Addgene partnered with Seeding Labs to help advance molecular biology research at Instrumental Access institutions. Dr. Kamens is passionate about mentorship and the promotion of women scientists. So passionate, that she established the Massachusetts chapter of the Association for Women in Science.
Melissa P. Wu, PhD. "During the most challenging times of our organization, he kept the Seeding Labs Board engaged and focused on our mission. At the same time, I am excited for the future with Dr. Kamens' leadership. Her passion for equity and commitment to diversity in science will be a powerful driver of the future of our organization."
"I am grateful to Alan Lee for his strategic guidance during a crucial time of growth for Seeding Labs, as we restructured, improved our programming, and navigated the most difficult moments of the COVID-19 pandemic," said Seeding Labs CEO
Dr. Kamens will work with a Board of 10 officers, including Vishal Patel, PhD, Beata Dragovics, and Andrew Suchoff, who were elected to terms as Vice Chair, Treasurer, and Clerk, respectively.