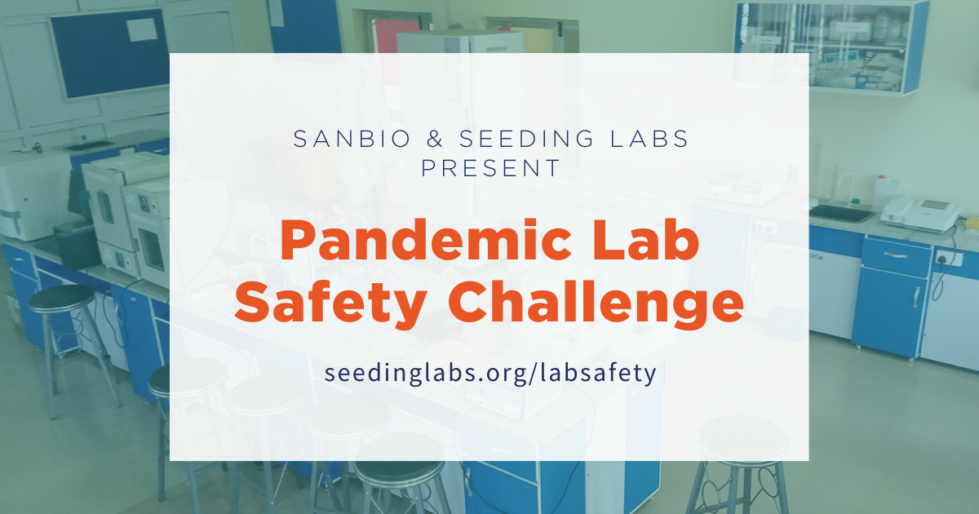 Introducing the Pandemic Lab Safety Challenge
Seeding Labs is proud to partner with SANBio, the Southern Africa Network for Biosciences, to issue a challenge! Labs across the world are in various stages of reopening, so how are you working to keep your environments safe?
To all the innovators and problem solvers devising new ways to keep their labs sterile during the COVID-19 pandemic: show us how you do it!
The Pandemic Lab Safety Challenge is your chance to share the tips and tricks you've developed for maintaining a safe lab environment. We're especially interested in ideas that can be adopted by scientists in labs with limited resources.
Start your Pandemic Lab Safety Challenge Team
Here is how to get involved:
Form a team of up to 4 members, and submit a written description of your technique or innovation
Create and submit your video—up to 8 minutes long and in any language!
Challenge videos will be peer reviewed by the Lab Safety Institute, and a panel of judges will choose the winners
In addition to a prize hamper, the grand prize winners will receive free virtual laboratory safety training from the Laboratory Safety Institute, as well as free automated edits of a scientific text from Research Square.
Share your knowledge with the world and help ensure the safe reopenings of labs everywhere! The Pandemic Lab Safety Challenge is open to students and researchers at all phases of their careers with the first wave of applications open through June 30.
The Seeding Labs/SANBio Pandemic Lab Safety Challenge is sponsored by: